7 Creative Date Night Ideas to Mix Things Up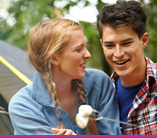 For many of us, date night has become a bit routine - dinner & a movie. And, for many of us, economic concerns have made date night a thing of the past. But, the RepHreshing Truth is that date night can be fun and affordable! RepHresh wants to get you out of your slump so we have come up with 7 creative & affordable date night ideas to keep the flame burning! Whether you want to enjoy the great outdoors, have fun without leaving your living room or try something new, we have a date night idea for you.
1) Visit Paris, without leaving your living room!
Pick up a bottle of champagne, surf Pandora for a French music station and channel the City of Love. You and your beau can prepare a French delicacy, like Chicken Fricassee with Tarragon, followed by a delicious and easy-to-make Crème Brulee. After dinner, lay a blanket on your living room floor surrounded by pillows and pop Johnny Depp's Chocolat into the DVD player. Voila! You're in Paris.
2) Get Boozy
Domestic or craft, breweries are a great twist to the traditional date night out. Whether you enjoy the occasional cold one or not, touring a brewery is a fun way to learn more and your guy is sure to love it. Most major cities offer brewery tours but if you're looking for ideas, here is a list of the top brewery tours in the U.S. If there isn't a brewery near you, stay in and hold your own wine tasting. Go to your local grocery or specialty wine and spirits store and buy a few bottles of cheap wine that you have never tried before. Pick up a variety of cheeses to complement each wine and head home for your personal tasting.
3) Camp in your backyard
Camping is a fun way to spend some alone time in the great outdoors, but we can't all get the weekend off. Set up a tent in your own backyard (2-person if you want to cuddle up). Start a fire and roast some marshmallows, tell a few ghost stories, stargaze and stay up extra late talking! This is a great opportunity for bonding, no distractions allowed. If you want to take it a step further, ban cell phones (there is no service on camping trips!). And the extra bonus of camping in the backyard is that you always have the option of heading inside: if there is a sudden downpour or bugs and heat are making it impossible to get to sleep, go ahead and sneak back in to the comfort of your own bed. (We won't judge!)
4) Go line dancing at a country bar
Did you know that line dancing is popular all over the world? When was the last time you hit the dance floor? Find a local country bar and dress the part. Slip into some cowboy boots and get ready to dance. Call ahead to make sure you go on a night when there is a live band and line dancing. If you don't know how to line dance, make some friends and learn! If line dancing is old hat to you, then shake it up! Try taking a ballroom dancing class or salsa or Zumba. It doesn't matter what type of dancing you try - the object is to get out of your comfort zone and try a new way to get moving together!
5) Favorite Movies Night
Choose a theme - from favorite movie as a child to favorite movie of all time - and share them with each other. You'll get to relive your favorites with your partner while learning more about theirs. When each movie is over, whether or not you loved each other's picks, you should have lots to talk about! This can be the favorite go-to date (favorite scary movie, favorite comedy, the possibilities are endless), especially for those nights when staying in and relaxing sounds perfect.
6) Get an Adrenaline Rush
According to Discovery Health, exercise is associated with the release of endorphins in the brain, those "feel good" chemicals (How Stuff Works). Because of this, exercise is often considered an aphrodisiac, something that increases sexual desire. So, get an adrenaline rush AND boost your libido by hitting the rock climbing wall at your gym, taking a wild ride at an amusement park or visiting a trampoline park.
7) Ghost Hunting
Need a good scare? What about an excuse to get close? Try a Ghost Tour! Ghost hunting is available in a lot of major cities all over the U.S. (If you can't find one, haunted houses are always a good back-up). Get spooked while learning some history and snuggling up close to your guy. This is a whole new way to get an adrenaline rush (see number 6)! Here's a list of the top 10 ghost tours in the U.S.