Probiotics For Vaginal Health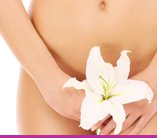 This post is sponsored by RepHresh, the maker of feminine hygiene products, and SheKnows Media.
Oh yes ladies, we're going downtown today! A warning for all the men out there: you may want to skip today's post and come back tomorrow after I have a personal chat with my ladies.
Recently, I was invited to talk about vaginal health with a small group of ladies via Google Hangout. Now you're probably thinking why would you ever do a thing like that? The truth is that area of business has been problematic for me. If you've been a long-time reader, then you know I battled with HA for years.
It wasn't until last year that my periods came back last year and when they did, they came back with a vengeance! Not only are they extremely uncomfortable but they've also come with other side effects. I was beginning to feel abnormal with the unfamiliar things happening to my body.
Until the Google Hangout, I thought I was the only woman experiencing these things. The discussion ranged from things like what do you do to feel fresh, do you have a cleansing routine, what do you use to clean yourself, do you get yeast infections, how do you prepare for intimacy and do you take probiotics?
The group was shy talking about their business at first, but eventually warmed up and it turned out to be a lot of fun! Not to mention I learned some new things like the importance of probiotics to vaginal health. I knew they were important for gut flora but I never realized they played a role in vaginal health too.
One way to support your vaginal ecosystem is with a product called Pro-B™ Probiotic Feminine Supplement.
It's clinically shown to balance yeast and bacteria to maintain vaginal health. RepHresh Pro-B provides probiotic lactobacillus that balances yeast and bacteria to maintain feminine health. Just one capsule per day helps maintain vaginal flora in a normal, healthy range. Click here to learn more.
As you can see, probiotics may play a bigger role in our health ladies than we know! I encourage you to check it out and as always, do what's best for your health.
Today's post is sponsored by RepHresh™, the maker of feminine hygiene products and, the clinically tested, #1 trusted brand that empowers women to take control of their vaginal health, and I received compensation for writing this piece on vaginal health. Opinions are always my own. If I didn't believe in it, you wouldn't hear about it. Thanks for your continued support!