Menstrual Cramps: Causes & How to Relieve Them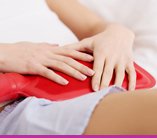 As if that time of the month couldn't get any worse - your cramps set in. You want to stay in bed, wrapped up in your warm covers, curled into the fetal position, and hiding away from the rest of the world. We know the feeling. Unfortunately, you probably can't just hide out in bed for a few days every month. Here at the RepHreshing Truth, we want you to feel better, climb out from under your covers, and take on the day. So, we're here with the RepHreshing Truth on 4 ways to help soothe your menstrual cramps.
What Causes Menstrual Cramps?
In order to begin relieving the pain associated with menstrual cramps, we must understand what they are. The medical term for menstrual cramps is primary dysmenorrhea. Mayo Clinic defines dysmenorrhea as "throbbing or cramping pains in the lower abdomen", caused by the contractions of your uterus, expelling its lining. Menstrual cramps affect more than an estimated 50% of women, with 15% describing their cramps as severe (MedicineNet).
Women with severe menstrual cramps may experience secondary dysmenorrhea, menstrual cramps caused by an underlying issue like endometriosis or uterine fibroids. You can learn more about secondary dysemenorrhea here, and be sure to consult your doctor if you suspect your cramps may be more serious. Women with primary dysmenorrhea can try one of the following remedies to sooth their menstrual cramps next time Aunt Flo pays a visit.
4 Tips to Soothe Cramps
Menstrual cramps arrive once a month for many women, making it difficult for us to ignore them and hope things will be better next time around. We must be proactive with our cramps and prove to Aunt Flo that she cannot keep us down. Next time you feel your cramps starting to set in, remember this RepHreshing Truth and give one of these 4 tips a try.