4 Scary Health Concerns Women Face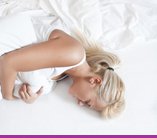 Sure, headaches, stomach pains, and a bad cough can all be concerning. But when it comes to women's health, a few different scary health concerns come to mind. Unfortunately, women are often too afraid to seek help with these personal issues. Whether they are embarrassed, confused, or unsure how to broach the subject, many women brush these symptoms off or just sweep them under the rug. We're here with the RepHreshing Truth about what these 4 scary health concerns could mean and what you should do to take control of your feminine health when facing uncertainty.
We know these 4 health concerns can be very scary and intimidating. However, we want you to feel empowered to take control of your health. Preventative action can ensure that more severe conditions do not arise and that serious medical issues do not progress due to lack of knowledge or medical intervention. Remember, if you're in doubt, ask your doctor! Don't ever be embarrassed or afraid to seek out the RepHreshing Truth!