The Smart Woman's Guide to the Fresh Life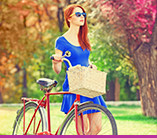 Fresh laundry, fresh flowers, fresh air...Freshness is a wonderful thing. Do you get enough of it in your life? Too often we get swept up in stale routines and forget to take a little time out of our day for ourselves. Next time you have five minutes, add some freshness to your life with these quick and simple tricks!
Whether it's your mind or your body, keeping things fresh is one key to maintaining your overall health. Try these freshness tips to keep your mental and physical health in balance. Share these helpful tips with your friends as well so they too can live a fresh life! Everyone can use a little RepHreshing Truth!