Ways to Boost Your Libido and Feel Sexier - Part 2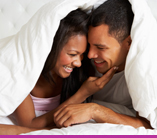 Last week we started a conversation about libido boosters, offering you five food-related tricks to get you in the mood. This week we're bringing you part 2; a new list of libido boosters with additional tips and tricks. As you'll recall, your lack of desire can be more than just the result of a long, stressful day. Some women struggle to ever get "in the mood"! This is nothing to be ashamed of. We're here with the RepHreshing truth to tell you that something may actually be off balance. Many factors can negatively affect your libido. RepHresh wants to empower you to feel sexier and enhance your sex drive with these 5 BONUS libido boosters.
Whether your sex drive has been missing or you are just looking for a way to kick it up a notch, these tips can help boost your libido. Try some of last week's libido boosting tips as well as the 5 bonus tips we provided here to get your sex drive back on track! Say to yourself, "I am a vibrant, empowered woman, and I deserve to feel sexy"", because THAT is the RepHreshing Truth!