5 Simple Ways to Boost Confidence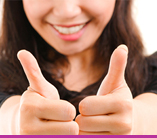 RepHresh is focused on empowering you to take control of your feminine health and feel confident in your own skin. We could tell you that you're a strong, beautiful, independent woman all day long (and we mean it) but in the end you need to convince yourself! Here are 6 simple ways to boost your self confidence in any situation.
Boosting your self confidence will positively affect your mental health, so start with some of these tricks when you're in need of a little pick-me-up.
Bonus Tip: Feeling healthy is an essential part of boosting your confidence. RepHresh Pro-B is confidence in a capsule! Try RepHresh Pro-B for that extra confidence boost.